Beef Up Your Door with DIY Molding
For the two years we've lived in our house, the space above our door, not the shelf, but the wall space, has been vacant. It's prime real estate for a pretty sign, some scrolly artwork, something, anything, yet I've never really bothered to look for decor to put there. I happened to snag this awesome aqua luggage to use on the useless, dust collecting shelf above our front door and well, it forced me to notice the emptiness. The more I looked, the more I began to notice that the door felt puny and out of place. To the left were pretty, glass french doors and to the right was the arched entry to the dining room. The space above the door didn't need artwork hung. Nope, what this baby needed was some personality that matched the rest of the entry. That's when it dawned on me to beef up the molding! I needed to add height to the door! Yup a DIY molding project was in my future. I started poking around online to get an idea of what I might need and came across Sawdust Girl.  She actually did something similar on her windows, but much more elaborate.  As a newbie DIYer, I opted to keep mine simple 🙂  You should totally check out her project here!
I stopped off at Home Depot for MDF which I had cut to 69 inches. I had just about an inch of overhang on either side. I also picked up my crown and trim moldings. There was actually a second set of crown and trim that was purchased after this because I may have accidentally made the wrong cuts the first go 'round. Thank goodness I'm embracing imperfection, lol!
I took some measurements and because I couldn't find an extra set of hands to help me and had to do this part alone, I fashioned this little piece of yarn with a few beads attached on the end to make sure the measurements I was taking in order to predrill the MDF were accurate. It's tough to hold a tape measurer, stud finder and marker while balancing on top of a ladder trying to take good measurements. As a side note, MDF is pretty heavy, so I felt most comfortable securing it to studs which was why I was predrilling and using screws instead of just nailing it in.

I used my Ryobi and predrilled the holes on the top and bottom of the MDF.

I had Bub install the actual board. That sucker was heavy! We started with 3 inch screws, but found it was better to go with 2 1/2.

If you're looking at the board and noticed that there are actually only 8 holes and not 10, it's because I couldn't find the stud between the third and last sets of screws, so rather than put holes into the wall for nothing, I just let it go.

I should back up a moment and mention that although the MDF board had been hung, I'd already measured and cut my crown molding which I used up top. I'd also already cut the thinner decorative trim which I used across the bottom. I cut the sides at a 45 degree angle, which in hindsight, I think should have have maybe been a 30 degree angle instead. It was a tight squeeze getting the sides to fit properly on the crown and the smaller trim was just a royal, royal pain in the rump. Making a mental note for next time. The nail gun was at my Mom's house, so we just used a good old hammer and 2 1/2 inch nails on the crown, ensuring the that it was level as we worked. On the bottom PVC trim, we used 1 1/2 inch nails. We also used a countersink tool to ensure that we didn't damage the molding while hammering.

I puttied, sanded and painted to match the existing trim and here she is! I'm in love with the way this molding compliments the height of the arch in the dining room entry. I'm still entertaining the idea of adding some sort of wood appliqué, but for now I'm gonna love on the new look and the architectural detail that's been added to an otherwise boring front door.
I'd love to hear your thoughts so leave me a message below and as always, if you have any questions, please feel free to ask. Thanks for stopping by!

Linking up with…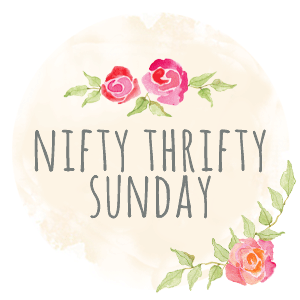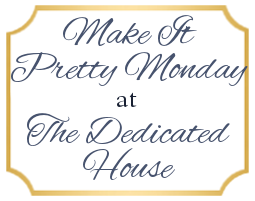 http://diyshowoff.com/category/other/that-diy-party/
http://www.houseontheway.com/twirl-take-bow-party-109/
http://www.domestically-speaking.com/2014/09/inspire-monday-24.html
http://www.savvysouthernstyle.net/2014/09/wow-us-wednesdays-186_9.html